Assign and track your own in-house drivers, or request delivery support on-demand.
ezCater's delivery solution has all the tools you need to support or supplement your operations. Delivery management makes it simple to assign and track every order delivered by your in-house drivers, while ezDispatch gives you on-demand access to a network of reliable catering delivery drivers. However you choose to deliver catering, ezCater can help ensure every order is tracked and delivered successfully.
Assigning your own in-house delivery driver
Assigning one of your own drivers is simple. Drivers will receive a text message which will give them access to all the necessary tools and information to execute a successful delivery.
What you get as a Driver:
Simple SMS based mobile app, to quickly update delivery status
One-click navigation to the delivery location
Call the customer from a masked phone number to ensure privacy
Upload a photo of the final set-up
ezDispatch
No need to turn down valuable catering orders you can't deliver. Deliver the orders you're able to, and hand the rest off to ezCater's network of reliable delivery providers — vetted by us to protect your reputation.
We handle sourcing and recruiting delivery partners, training them on high-quality catering delivery, and managing the orders from start to finish.
To request help with ezDispatch, please fill out the form on our landing page or contact delivery@ezcater.com.
There are two options to meet your needs:
1. Already deliver but reaching your limit? Deliver the catering orders you're able to, and hand-off the rest of ezDispatch.
2. Have a pickup-only catering business? Use ezDispatch to serve delivery customers without building your own delivery fleet.
How it Works:
1. You request ezDispatch for an order. We find a delivery provider for you. Learn how to request ezDispatch.
2. You get a confirmation email. It shows the delivery provider and pickup time. These will also be available in the order details.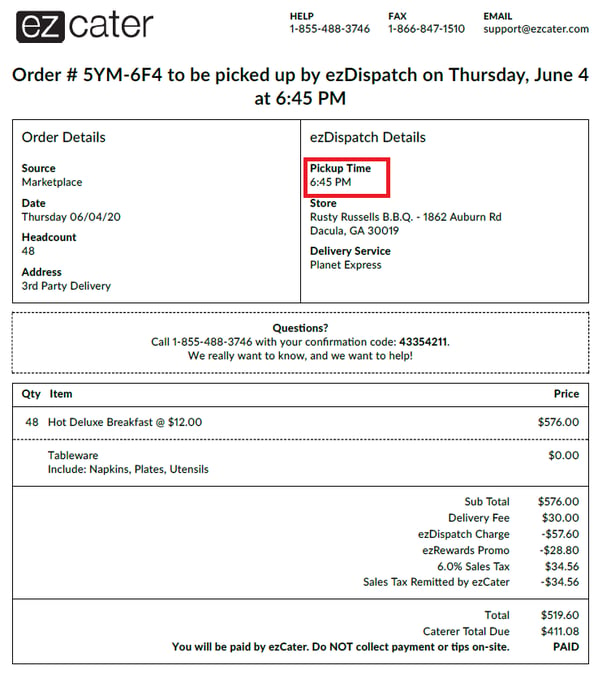 3. The driver picks up the order. Prepare it for pick-up, and you're done!
To provide feedback or for more information, contact delivery@ezcater.com.