When you add an item that is not on your menu by selecting "Add Custom Menu Item" in Direct Entry, you need to assign the item a tax category. Definitions of each category are below.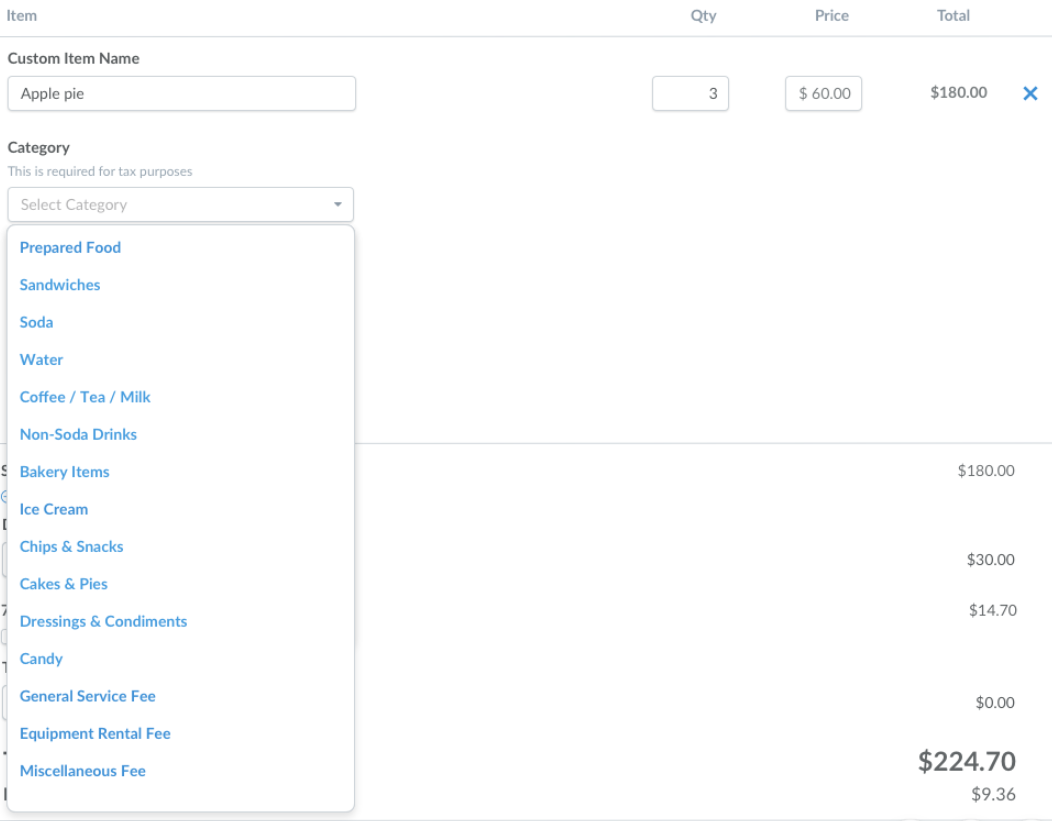 Tax Categories
Prepared Food: Used for all hot and cold food prepared by a restaurant that does not fall into one of the below granular categories. Note that this may include desserts if the dessert cannot be categorized as bakery, cakes/pies, or candy.
Sandwiches: Used for all hot and cold prepared sandwiches.
Soda: Used for all sodas and carbonated beverages.
Water: Used for all bottled water, including sparkling water.
Coffee/Tea/Milk: Used for all coffee, tea, and milk beverages. Includes all varieties of hot & iced coffee/tea, kombucha. and milks.
Non-Soda Drinks: Used for all non-soda/coffee/tea/milk beverages: juice, aguas frescas.
Bakery Items: Used for bread, donuts, croissants, muffins, cookies, and any other bakery foods.
Ice Cream: Used for all ice cream, sundaes, popsicles, etc.
Chips & Snacks: Used for all pre-packaged chips and snacks.
Cakes & Pies: Used for whole cakes and pies only.
Dressings & Condiments: Used for all sauces, salad dressings, and other condiments.
Candy: Used for all flourless candy.
Miscellaneous: Used for miscellaneous general merchandise sold: utensils, sternos, etc.