Use our ezManage iOS app to accept orders on the go
Download our ezManage iOS app on the apple app store. Watch our video below to see how easy it is to accept orders on your apple device.
Setting up your ezManage iOS app
1. Download the ezManage iOS app and sign in using your ezManage credentials.
2. Make sure your notification settings are optimized by allowing notifications, turning your banner notifications to permanent, and enabling badges and sound alerts. See the image below for reference.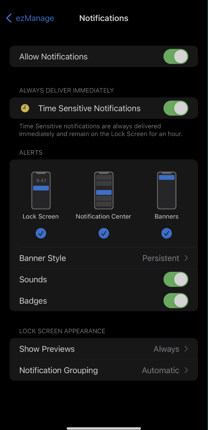 Accepting Orders
1. Customers will place their catering orders on ezCater.com, or through the ezOrdering link on the catering page of your website.
2. ezCater will send push notifications for all order alerts and updates.
3. Open the notification to review and accept the order within the app.
4. Create and assign an in-house driver, or request an ezDispatch driver.
5. Print the order at your store, and hang it where your catering team will see it.
6. You'll receive additional push notifications if you do not accept the order within 15 minutes.
7. Please deliver the order by the time listed on the kitchen printout, or hand off the completed order to the ezDispatch driver, by the specified pick-up time.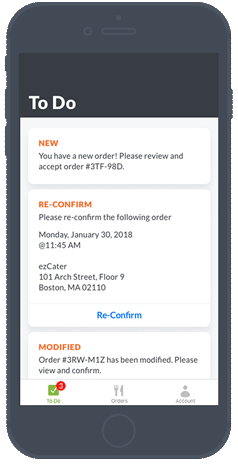 Interested in Automatic ezDispatch? Click here to learn more.
For additional assistance email our Partner Success team at partnersuccess@ezcater.com