Delight your customers with live-time delivery status updates.
The simplest way to delight your customers is by letting them know once their food has left the restaurant and is on the way. ezCater makes it easy to assign your own in-house drivers, while also giving you access to our nationwide network of professional catering delivery drivers. Whichever way you choose to deliver your catering orders, we can help ensure all orders are providing customers with real-time delivery status updates, giving your customers peace of mind their food will arrive on time.
Assigning your own in-house Driver
Assigning one of your own drivers is simple, drivers will receive a text message which will give them access to all the necessary tools and information to execute a successful delivery.
What you get as a Driver:
A simple SMS-based mobile app providing you the ability to quickly update your customer once you've left the restaurant, and again once the order is delivered successfully.
One-click navigation to the delivery location.
Call the delivery contact from a masked phone number to ensure a successful handoff.
Drivers have the option to take a photo of the final set-up, which will be stored in ezManage for your own records.
Options to assign & manage deliveries
Assigned drivers will automatically receive complete order and delivery details on their phones and can send customers delivery notifications with the touch of a button.
1. Assign all outstanding orders from the Delivery Management tab in your ezManage account.
2. Follow the prompts to assign a driver as you accept or confirm incoming orders.
3. Scan the unique QR code on the order printout at the time of delivery to self-assign.
ezDispatch
There's no need to turn down valuable catering orders you can not deliver. Deliver the orders you're able to, and hand the rest off to ezCater's network of reliable delivery providers — vetted by us to protect your reputation.
To request help with ezDispatch, please fill out the form on our landing page or contact delivery@ezcater.com.
There are two options to meet your needs:
1. Already deliver but reaching your limit? Deliver the catering orders you're able to and hand off the rest to ezDispatch.
2. Have a pickup-only catering business? Use ezDispatch to serve customers in your area without building your own delivery fleet.
How it Works:
1. You request ezDispatch for an order. We find a delivery provider for you. Learn how to request ezDispatch.
2. You get a confirmation email. It shows the delivery provider and pickup time. These will also be available in the order details.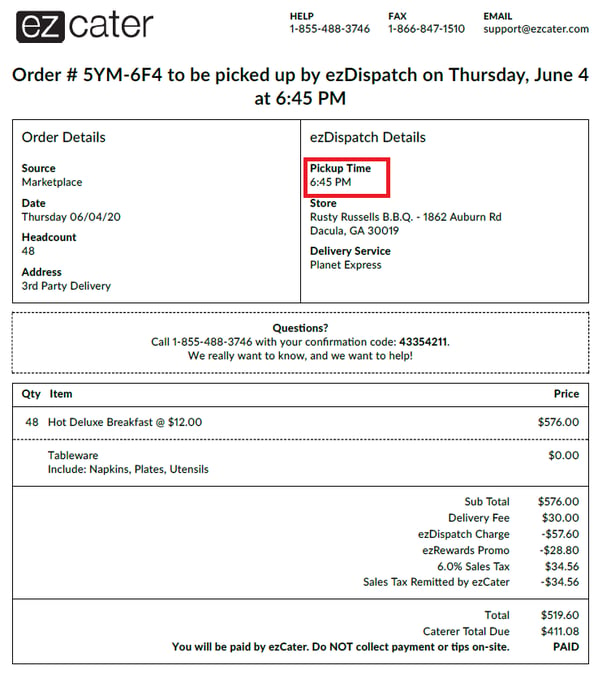 3. The driver picks up the order. Prepare it for pick-up, and you're done!
To provide feedback or for more information, contact delivery@ezcater.com.