We let you know when you get an order. You accept (or reject) the order. You make the food and deliver it. We pay you.
Here's what happens when you get a new order from ezCater:
1. A customer visits the ezCater Marketplace (or your ezOrdering menu) to place an order.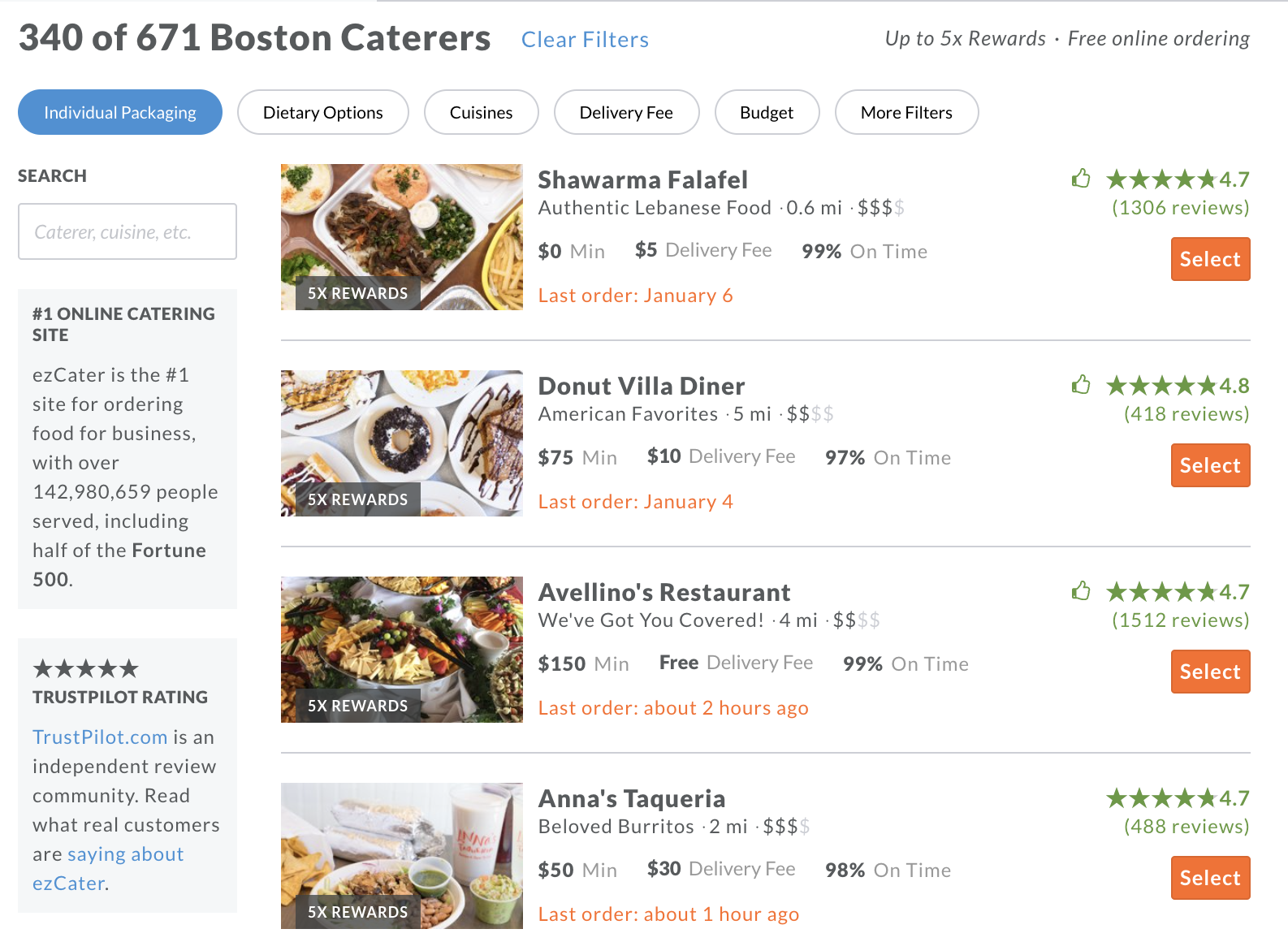 2. You get an order notification by your choice of text message, email, and fax. You can also use the ezManage app for iPhone and iPad to get push notifications.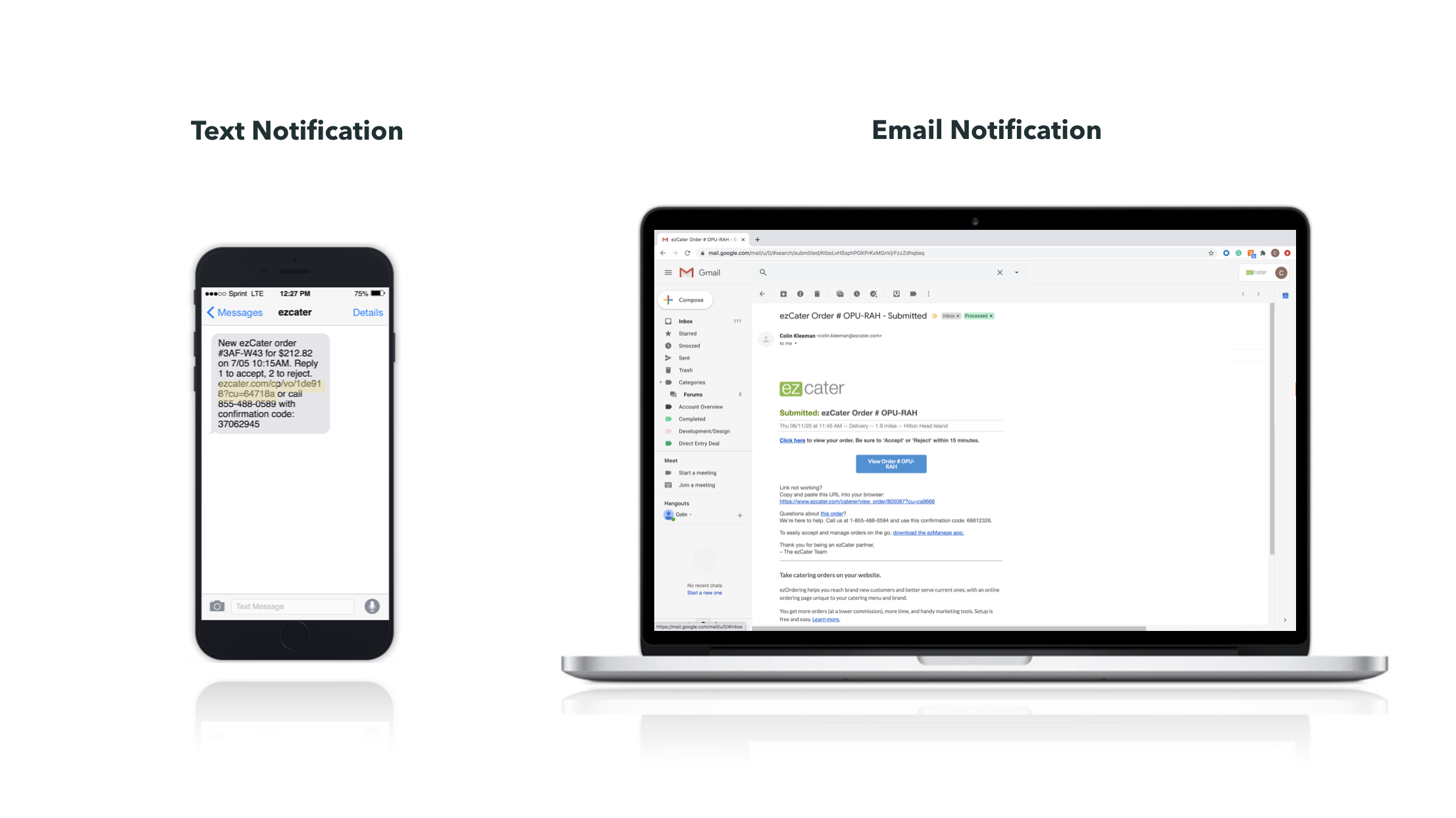 3. You accept or reject the order (or request ezDispatch if available in your area) through the ezManage iOS app or ezManage web.
Accepting Orders- ezManage iOS app
Accepting Orders- ezManage web browser
You have 15 minutes to accept or reject an order before you receive automated phone calls asking for your response. If you still don't respond, we may reject the order on your behalf and give it to another catering partner.
Avoid rejecting orders. It's always your choice to accept or reject orders, but your order acceptance rate affects your ranking on the ezCater Marketplace.
This is what an order looks like in ezManage: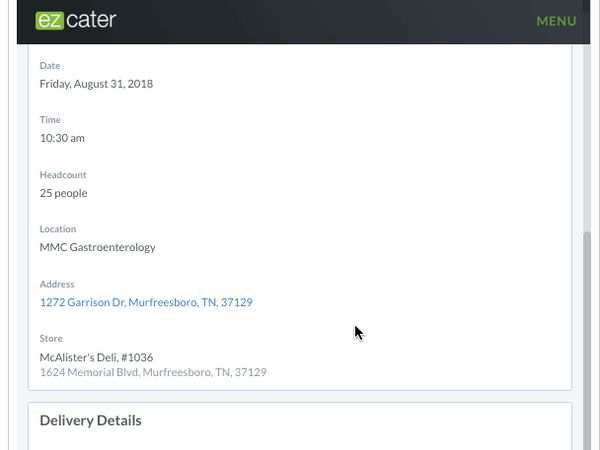 4. Print the order for your kitchen team.
The kitchen print-out will have all the necessary information for your staff to make the order on time. ezCater's customer service phone number is available if there are any issues. If using ezDispatch… Have the food ready by the Pickup Time to ensure our ezDispatch partner has an optimal time to deliver the order. The delivery partner responsible for the delivery will be listed under the Delivery Service section in the ezDispatch details.
5. You get a reminder email, and task within ezManage the night before/morning of the event. Reconfirm within your ezManage portal within 15 minutes to avoid automated phone calls.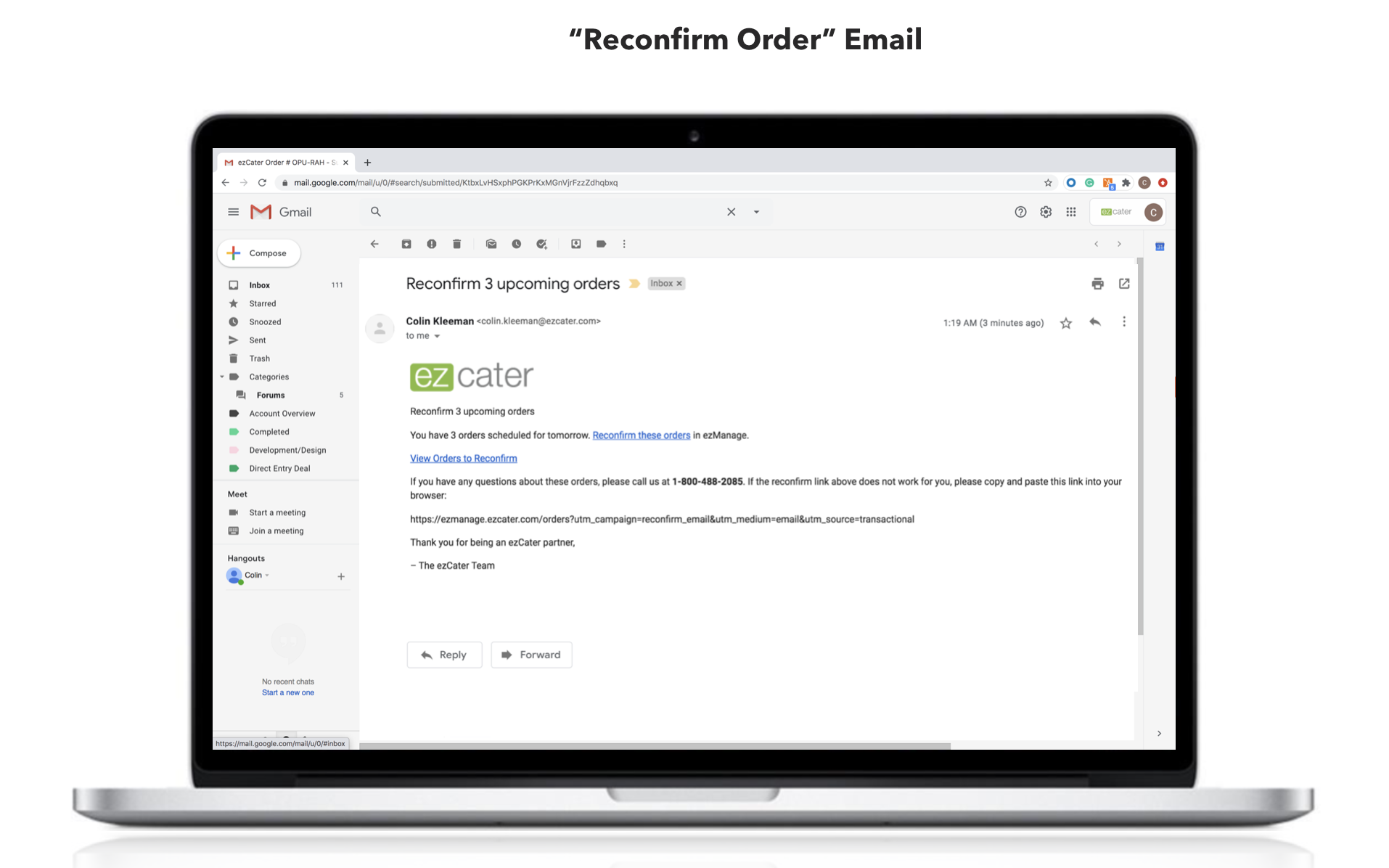 5. Prepare the order for pickup. (Or prepare it for pickup by the customer or ezDispatch.)
For self-delivery, make sure you are giving yourself enough time to account for traffic, navigating the delivery location, transporting food from the car, and doing light set up for the customer. Always plan ahead and for the time of the delivery!
6. If you have your own drivers, utilize Delivery Management to provide customers with delivery updates. Adopting Delivery Management is a great tool that will give our customers insight on when orders are en route. This will give customers peace of mind and the ability to track their order.
What you get as a driver utilizing Delivery Management:
Simple SMS-based mobile app to quickly update the delivery status.
One-click navigation to the delivery location.
Ability to call the customer from a masked phone number to ensure privacy.
Upload a photo of the final set-up (if using the ezManage- Delivery app).
ezDispatch best practices
For ezDispatch orders, have food ready at the specified pick up time and placed in a spot for the driver to easily identify and grab the order. Having a system in place to ensure that all components are included in the order prior to handing off to the driver is a critical step in a smooth delivery experience.
How ezCater supports you, and our customers:
Our team receives live-time delivery tracking status updates so we can easily update customers on your behalf and resolve delivery issues.
7. For order assistance, use the help button on the order details page within your ezManage app or web browser.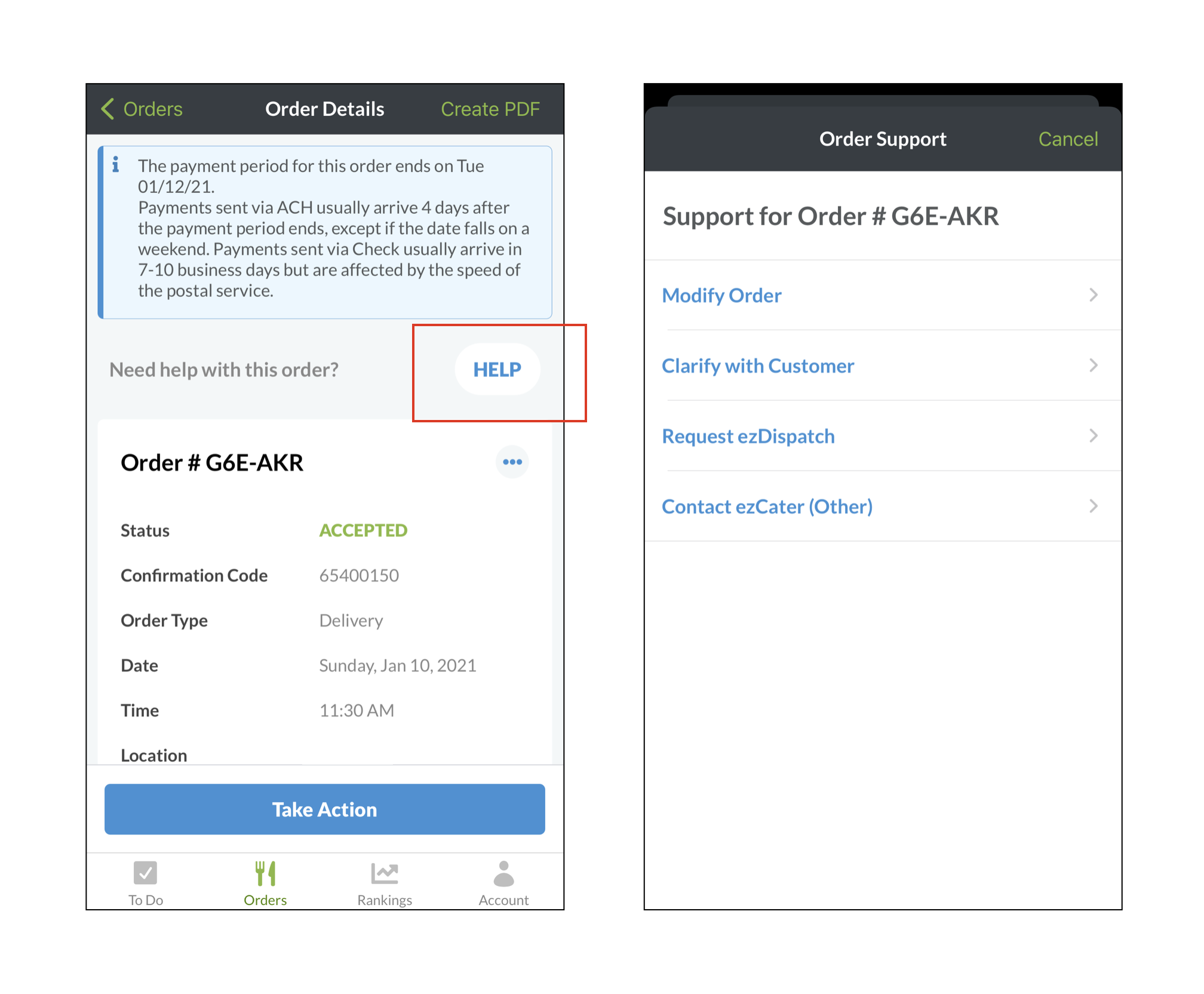 If you need to modify, transfer, or cancel an order:
Modifications: If you need to change the time on an order, or modify a food item that's out of stock, email support@ezcater.com or call (800) 488-1083.
Transfers: If you would like to transfer an order to another one of your locations, email support@ezcater.com or call (800) 488-1083 and let them know the store you would like to transfer the order to. Our team will cancel the original order and send a new order to that store. The new store will be required to accept the order.
Cancellations: Click 'cancel' in ezManage or in the order notification email you received. If your plans change and you want to re-accept the order, email support@ezcater.com or call (800) 488-1083.
If the customer cancels an order:
When a customer cancels an order with less than 24- hour notice, our customer service team will reach out and ask you if there is a cancellation fee. You have the option to put a standard cancellation fee in place or decide this on a case-by-case basis. To set up a standard cancellation fee, email partnersuccess@ezcater.com.
If something goes wrong with an order:
In the rare event that a delivery is late or the wrong food is delivered, our customer service team will work with you to determine a solution that is fair to you and the customer.
Catering Partner Guidelines
Star Rating
What is star rating? Based on a 5 star scale, this rating is how customers are reviewing your location from poor to excellent.
Why is it important? Our customers are more likely to place an order with an establishment with a higher star rating than one with a lower rating. A high star rating provides a high degree of confidence when placing an order.
Rejection Rate
What is Rejection Rate? The number of orders that customers have submitted for your location, but you have rejected.
Why is it important? Our customers expect that if you are shown to them on the marketplace you are available. Our customers are busy business people and look for Caterers who will accept their submitted orders.
Cancelation Rate
What is cancelation rate? This measures customer's orders that are canceled after already being accepted.
Why is it important? Canceling a customer's order can damage their experience and satisfaction with your business, leading to lost revenue and harm to your business reputation.
On-Time Percentage
What is On-Time Percentage? The percentage of orders not marked late or early either by reviews or order issues reported by customers.
Why is it important? Our customers expect timely delivery. Most customers plan their events with the expectation that the food will arrive at the time they requested. When orders are late, in minor situations it can cause frustration and in major situations it can cost people jobs, clients, and money.